It is my pleasure to welcome you to IBS Center for NanoMedicine at Yonsei University.
IBS Center for NanoMedicine aims to bring people from different scientific backgrounds from all over the world to develop the future of interdisciplinary science.
Our goal is to revolutionize the science of future medicine: developing nanomaterials and devices capable of monitoring and understanding biological phenomena with maximum precision and accuracy.
In the long term, we expect to have innovative concepts and tools for ultra-sensitive, high-accuracy, and high-efficiency diagnosis and treatment of diseases for betterment of humankind in the future.
To accomplish this goal, we provide all our members including graduate students with access to world-class state-of-the-art labs and interactive open spaces. We also run a graduate program of Nano Biomedical Engineering (Nano BME) to foster young science leaders for the next generation.

It is our vision and hope to serve the society and global community we live today, and make our center as a successful showcase for the future interdisciplinary science.
Founding Director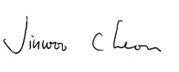 Jinwoo Cheon, Professor